Disclaimer: As a thank you for this post, we were gifted wine. All opinions, as always, remain my own!
TRITON Restaurant – Prague
If you are trying to decide on a destination for a European vacation, it is my strong recommendation that you visit Prague, Czech Republic. And then once in Prague, you must eat at TRITON Restaurant. My husband and I just did exactly that, and let me tell you, it was magical.
View from Strahov Monastic Brewery

Prague Castle

St. Vitus Cathedral

Mala Strana

Old Town Square
Prague is often aptly referred to as the City of a Thousand Spires. It is breathtaking. From every angle, everywhere you turn, you are greeted with the most stunning architecture, rich with history. My husband and I did a couples' getaway and were only visiting for four days, but we maximized our experience by visiting several zones or neighborhoods, enjoying all the local fare, perusing the marketplaces, and walking nearly every nook and cranny. Look forward to another post with recommended itinerary soon!

One of our trip highlights was our dining experience on our very first evening. After hearing recommendations from my husband's parents, Auntie, and Uncle, I booked in advance a romantic 5-course dinner at Triton Restaurant in The Hotel Adria, right off of Wenceslas Square.

TRITON Restaurant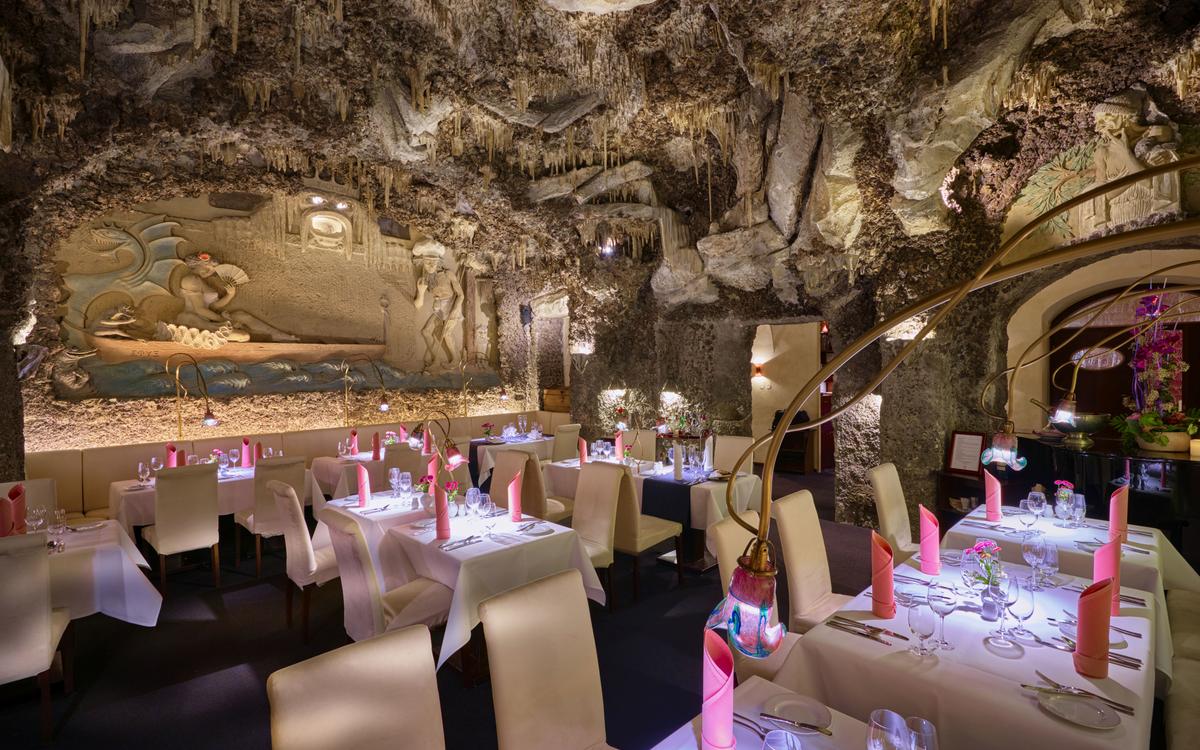 Next to Wenceslas Square, you enter a small, unassuming bar. Then you make your way to the back where you find the steps down into the "cave". The entry had a speakeasy feel, as if you and only a few others know of the restaurant downstairs.
So just a heads up: the "cave" setting is not entirely real. Some of the stalactites are natural, but the rest of the interior was man-made. I was a bit disappointed at first, but when our wonderful server (and the restaurant sommelier) Karel Sadke explained the history and story behind the façade, I began to appreciate the ambience it created and the mystique it held.
Here's a little of the history: Before the Triton Restaurant was born, the space was created in the Art Nouveau fashion of a stalactite cave for the purpose of stage productions and cabaret. During World War II, the hotel and restaurant were used to store priceless artwork to keep it safe from destruction by the Nazis! The representation of cave with statues from mythology has been retained as part of the history of the building.

If you search for the Triton Restaurant online, you will see that it is highly rated by restaurant goers. It has 4 stars on Google, Yelp, and TripAdvisor (and is in the top 10% of restaurants which is saying a lot since there are an overwhelming number of restaurants in Prague!). You will also see that it has several dollar signs next to it. But, fear not, you will get a whole lot of bang for your buck. We enjoyed the 5-course Czech Modern Art menu, with wine pairing, priced at 61.50 Euros per person. For the two of us, that equated to about $137 for a seriously VIP experience with some of the most delicious food we've ever tasted, prepared like you'd expect in a Michelin star restaurant. Now that's still not chump change, but it's great value for money, especially considering that a typical date night in San Diego for my husband and myself, with an appetizer, a main, and a couple drinks can easily top $200, so we felt like royalty without the crazy price tag.

---
We loved Triton restaurant for several reasons:

Top-notch Customer Service
We often find that a server can have a big impact on our enjoyment of our meal — Karel made our night. He was authentic, informative, helpful, and all around enjoyable. His English was impeccable and besides doing his job of delivering our food while explaining the meal and educating us about the wine that was paired with each course, he went above and beyond by engaging in conversation with him about life and our respective families. We felt so welcomed into Triton and we never once felt rushed. In fact, our dinner experience lasted over two hours. We actually closed the restaurant down for the night, we were there so long!

We got to meet the master Chef
The chef, Tomas Horak, came up from the kitchen to greet us and introduce himself during our meal. He is a sweet and likeable man, and even though we had some lost in translation moments, we could tell he was genuinely happy to be our chef for the evening. He has worked in several Michelin star restaurants throughout Europe and it really shows in his skill and execution. The courses were expertly conceptualized, cooked, and artistically prepared. I have honestly never had a meal quite like the one we had that night. The flavors, textures, smells, and presentation all blew us away. Top it off with Karel bringing us a glass of wine with each course that paired beautifully, and we were in heaven.

Sit back, relax, and indulge
What I enjoy most about dining out is the relaxation factor, and which is why when we have our kids in tow, we prefer to cook at home (read: kids are not relaxing). When it's just the two of us, a restaurant meal is so nice because my hubby and I can enjoy each others' company without any meal plan or prep effort. Triton scores big points for me on this front, specifically because of the multi-course menu. We selected the menu we prefered, and then sat back and relaxed as our delicious evening unfolded.
I loved not having to think about what sounded good, and letting the chef work his magic while I did not have to choose a darn thing or make a single decision — which all you mamas know is a rare treat!

The food — the food! (And the wine!)
The 5-course Czech Modern Art Menu was divine. And not just because we were surrounded by mythological gods. I can't state this enough — it was one of the (if not THE) best meals we've ever had.

Bohemia Sekt Rosé Brut

Bohemia Sekt Rosé Brut

Amuse-Bouche
It started with a special bottle of Bohemia Sekt Prestige Rosé Brut. It was the perfect way to start the meal. Light, crisp and airy, and just a little sweet. Alongside came the amuse-bouche, which was a milk foam with beetroot granita. I don't know exactly how to describe it because I'd never tasted anything like it. It disappears in your mouth but leaves all the flavor behind. It was mysterious and delicious.

The first course was Prague ham with horseradish, pickled onions, pickled gherkin, white chocolate, tomato, and oxalis, and it was paired with a Frankovka Rosé, from the H. Mádlová Winery in Moravia, specifically the Velké Pavlovice sub-region of the Czech Republic. I loved the saltiness of the ham with the sweet chocolates, and the tangy flavors of the onions and gherkin.

The second course was an oxtail double consommé, with bacon quenelles and fresh vegetables. As it was a soup dish, it was not served with a glass of wine. This consommé was hearty and rich, and I really enjoyed the texture of the vegetables strewn throughout.
The third course was slowly roasted beef fillet steak in a cream sauce, with Carlsbad dumpling soufflé, cranberries, whipped cream, and lemon, and was paired with Rulandské Modré from Moravíno Valtice. This was Melt. In. Your. Mouth. So tender and sumptuous!

The fourth course was marinated breast of duck with orange sauce, red wine, cabbage, and potato dough peaks, and was served with a Neronet, a regional Prague wine. Chef Horak knows what he's doing with duck. The skin was perfectly crispy while the meat was soft and supple. Dipping the duck in the different sauces and quickly following it up with a sip of the wine was fantastic.


The fifth course was dessert! It was an apple strudel with vanilla ice-cream and whipped cream, with a glass of Pálava, from the Lechovice Winery in Moravia. I am a dessert girl, and I can attest to the magnificence that is this apple strudel. It is so light and fresh, you can enjoy it without feeling too stuffed.

We received an extra (and complimentary) course of cheese and chutney, which was the perfect way to end the perfect meal. Locally sourced Czech cheeses with a sweet fruit chutney danced on our tongues as we got ready to dance through the cobbled streets on our walk back to our AirBNB.

We highly, highly recommend that you book a dinner at Triton Restaurant in Prague when you go. My husband even said it is "a must-do for anyone visiting Prague"! I couldn't agree more. It was a fabulous evening, and the best way to begin our couples' getaway!
Love and hugs, and good travels,
Christina
---
Visit TRITON Restaurant online to check out menus, see the gallery, and make your reservations! Or give them a call: +420-221 081 218
They are located at: Vaclavske namesti 26, Praha 1, 110 00 , and open from noon to 11pm daily!